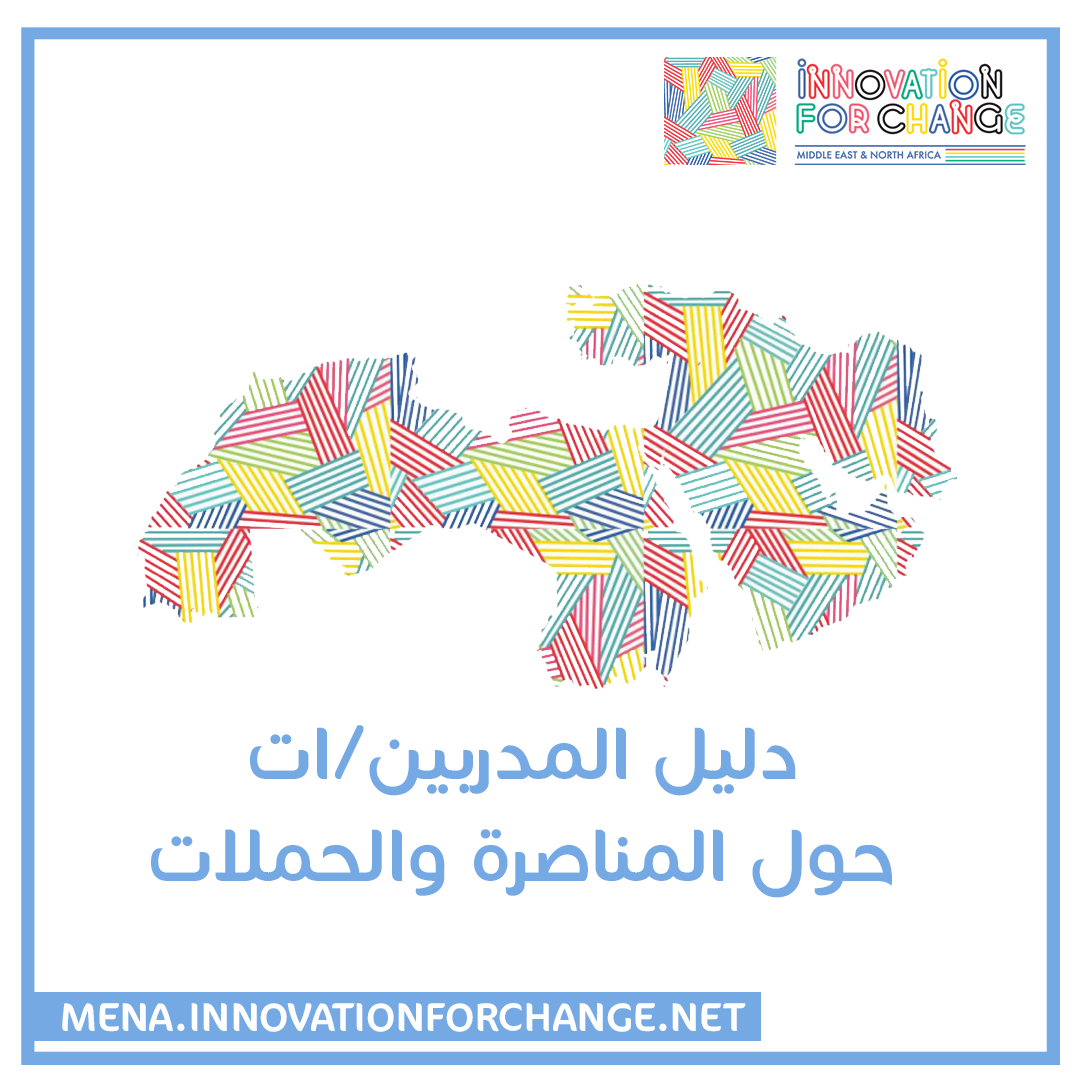 As part of Innovation for Change MENA objective to act as an advocate for the MENA region's civic space and human rights issues and develop adapted evidence-based resources and tools for effective campaigning and advocacy, the MENA hub was interested in developing the capacities of civil society organizations in advocacy for achieving an open and free civic space. As well as promoting the search for creative and effective alternatives to overcome the crises and challenges resulting from the increasing closure of civic space, limited resources and increasing risks.
The development of the curriculum is meant to be a reference of knowledge, skill, and behavior for trainers on advocacy issues and campaigns for open civic space. This will allow individuals and institutions to provide skills, knowledge, and behaviors related to advocacy and civil space. The content of this curriculum combines the conceptual framework related to training and strategic planning for advocacy and campaigns in addition to concepts related to civic space, and on the other hand, it includes case studies on civic space and its reality and status quo in many countries. This guide also provides a package of tools and methods that can be used to work on developing a strategy for advocacy, planning and managing advocacy campaigns, or evaluating advocacy-related actions. This curriculum has been developed to support the Arab knowledge content in the field of advocacy and civic space in order to contribute to reducing the knowledge gap resulting from inadequate Arab sources covering these topics. We hope that we have succeeded in providing diverse, useful, and influential content that contributes to the empowerment of civil society and its organizations. This will also contribute to achieving the desired social change through planning, implementing, and evaluating effective advocacy campaigns that strengthen civil society and preserve civic space as a free space that supports the rights and livelihoods of people.
The aim of this curriculum is to develop the capacity of individuals and civil society organizations in the MENA region to advocate for an open and free civic space. The curriculum provides a range of knowledge, skills, and tools on advocacy, as well as general concepts of civic space and presenting case studies on the closure of civic space in the world in general, and in the Middle East and North Africa region in particular.
In order to ensure high-quality training by the users of this manual, we have devoted the first chapter to present a range of topics related to training and adult education, and designing materials and training tools. This curriculum will serve as a reference framework for the work of trainers in the transfer of skills and knowledge related to advocacy and civic space. Therefore, they can prepare, organize and evaluate training courses that respond to capacity needs at the level of civil society institutions in general and at the level of their internal capacity building within their organizations in particular.