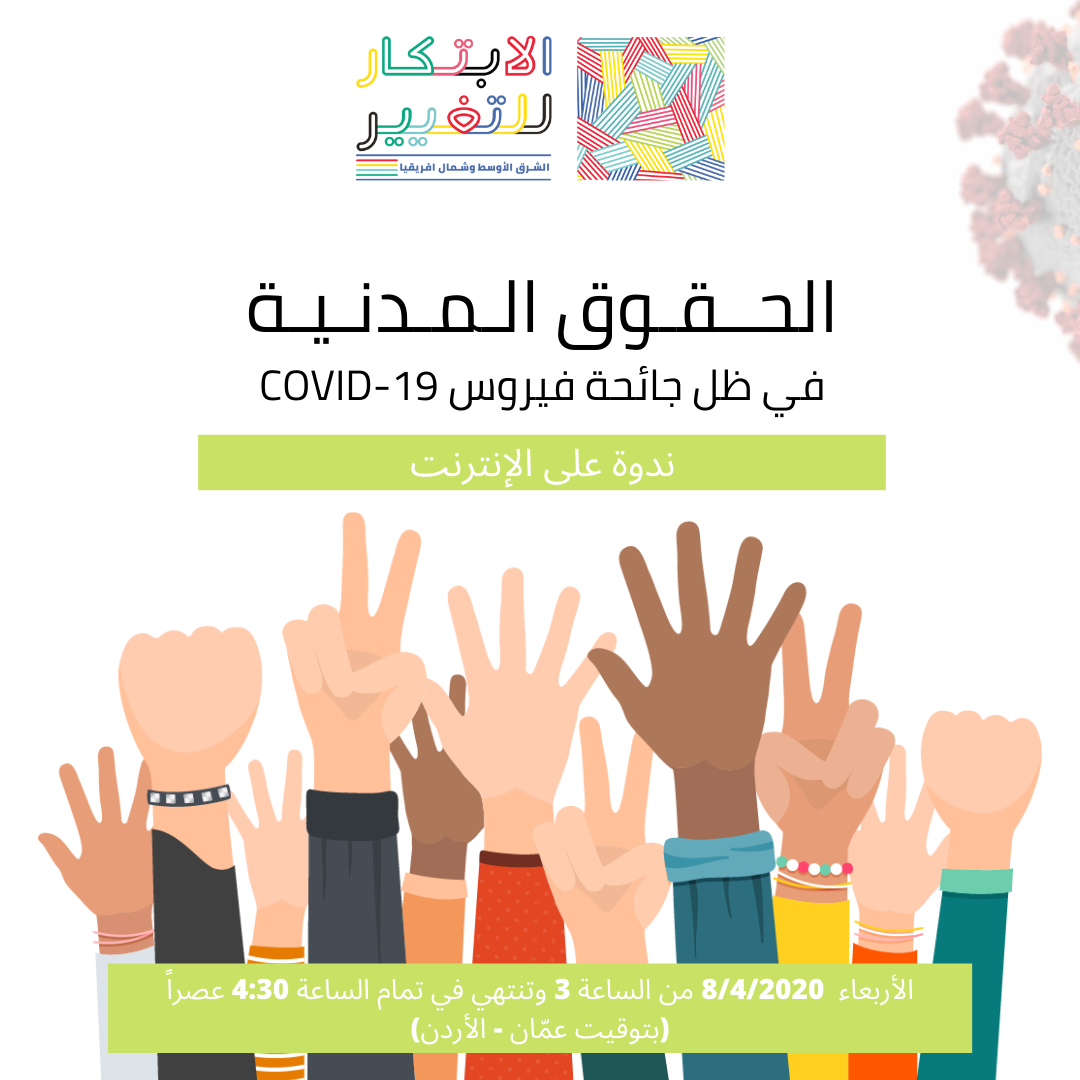 All over the world, governments, NGOs alongside the general public and corporate organizations unite in fighting against the COVID-19 pandemic, in the MENA region, some countries have taken extreme measures to protect their citizens from infection, some of these measures included flight bans, curfews, mandatory testing, and lockdown as well as activating martial/security or defense laws. These laws enable governments to restrict all civil and political rights and freedoms. Given that no government can solve this crisis alone, further space should be provided to Civil Society as a strategic partner in the fight against the pandemic and in ensuring respect for human rights issues during the enforcement of the latter laws. 
In harmony with UN Human Rights Council recommendations to place Human Rights at the center of Coronavirus Outbreak response, the Innovation for Change Middle East and North Africa Hub is seeking to build awareness on Civil Rights in the region to help deepen the understanding of the COVID-19 government responses on civic space and civil rights. The MENA Hub is executing a series of online webinars to discuss the influence of the COVID-19 on civic space, and to discuss how martial laws when enforced can influence human rights and how citizens can remain resilient. 
The first webinar hosted by the Innovation for Change MENA Hub Advocacy officer was attended by 53 members from Libya, Tunisia, Yemen, Sudan, Morocco, Egypt, Palestine, Bahrain, Kuwait, Oman, Mauritania, Lebanon, Algeria, and Jordan. 
Through group discussions, the attendees explored different potential campaigns to raise awareness as civil society on the current COVID-19 situation in the region and to help MENA citizens understand their rights during enforced martial/emergency. The discussion focused also on a comparative review of country action and their implications on civil rights during and after the COVID-19 situation regionally. 
What did CSOs and human rights defenders discuss during the session?
Civil and political rights 
In reference to the International Covenant on Civil and Political Rights (ICCPR), participants discussed how rights were influenced by security/ martial laws during the pandemic, how some countries enforced a full lockdown and rigid curfews, and how others responded to the crisis in with partial lockdown and less extreme forms of limitations. The group discussed Curfews, flight bans, governmental and corporate work freeze, and how mandatory testing and quarantine have affected and limited freedoms, and the link between political regimes and citizen's political and civil rights awareness
The Role of CSOs and governments 
The group discussed the crucial role of CSOs and brainstormed on potential partnerships with governments in order to achieve the best interest of the public in terms of awareness on civil and political rights as well as providing aid to day-to-day workers who have suffered economically during this crisis.
What can we do as CSOs and Human Rights defenders during the COVID-19 crisis?
CSOs to take on their role to provide assistance and aid.
The group suggested that CSOs shall start initiatives to provide all needed assistance through calculated and well-managed initiatives to unify the efforts of civil society through fieldwork along with distributing aid and working on advertising to effectively reach all members of society with the cooperation of the governments. 
Awareness and Assistance to Access Information 
While CSO's work and mobility have been narrowed during the COVID-19 crisis, there are some actions that can be done to provide the public with information and raise awareness on government responses around the region in order to highlight best practices. Some of these include: 
Advocating for the inclusion of people of disability
Throughout the current COVID-19 crisis people of disability have found themselves cornered in quarantine and their rights have not been taken into consideration. With limited access to their needs and the limitations imposed by curfews, CSOs are to work and in hand with governments to ensure human rights to disabled minorities, in Palestine – Beitlahm the CSOs have taken a role in monitoring and advocating for people of disabilities rights, Beitlahm's activists, political parties, unions, and CSOs assembled to create an initiative through emergency assistance cells that provide basic needs, advocacy and mental health. 
Private Sector, CSOs accountability
In response to the COVID-19 Crisis, CSOs should take on their role in raising awareness and advocating accountability programs within governments and the private sector as part of the social responsibility corporate programs, which can be vital in supporting CSOs' accountability programs in the ongoing crisis.
What is the Innovation for Change MENA Hub's role in the ongoing COVID-19 crisis?
Innovation for Change MENA HUB responded to the COVID-19 Crisis with a proactive plan to support CSOs and Human Right Defenders across the region, after assessing their needs, the MENA Hub Core team launched a series of webinars and activities to equip Civil Society and the network members with skills and knowledge in tackling the most pressing challenges during this pandemic: 
Supporting CSOs and HRD in capacity building and mental health sessions
Monitoring the civic space restrictions and violations.

Providing tools to assist CSOs and HRD to work from home

Providing webinars and open discussions on the updates of the COVID-19 crisis and benchmarking on governments' best practices in maintaining an open Civic Space