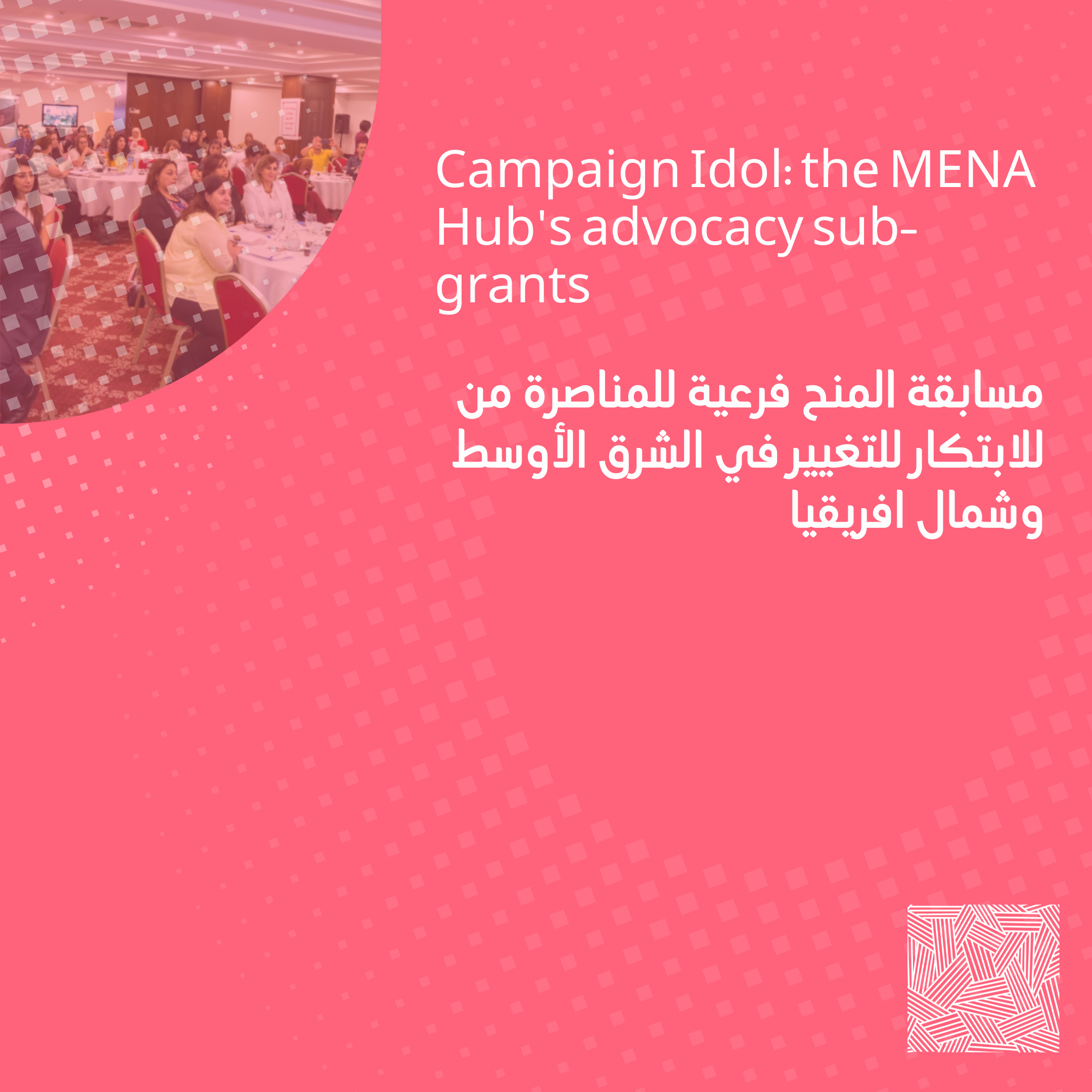 Innovation for Change MENA and partner Partners Jordan, launched Campaign Idol to support local CSOs in their advocacy efforts and campaign through in-kind help and five small subgrants not to exceed $5,000 each. The objective behind awarding these grants to participants' projects is to encourage the participants to practice the skills and knowledge they acquire through pieces of training. Small grants will be awarded to participants from the MENA region. Grants were used to fund the implementation of advocacy campaigns, local workshops, trainings, roundtable discussions on closing civic spaces.
Results
1) Funding a Research to monitor the violations on Women with Disabilities – QADER for Community Development – Palestine: The overall objective of the project is to enable and train a number of women with disabilities to monitor the extent to which women with disabilities are able to access their rights to social protection in a number of marginalized areas in the southern West Bank, based on what was stated in the International Convention on the Rights of People with Disabilities (UNCRPD).
2- Funding a campaign for the protection of children from sexual violence – The Algerian Network for Defending Children's Rights (NADA) – Algeria: The issue that the campaign seeks to address is the prevalence of sexual violence against children in the Algerian city of Tizi Ouzou. NADA will implement a campaign against sexual abuse of children, which is part of its strategic focus, to contribute to the social and judicial protection of children and the adoption of skills to protect the rights of children in Tizi Ouzon and Algeria.
3- Funding a Mauritanian Campaign on the law of associations – Khotwa Association – Mauritania: Laws and legislation are the primary organizers of civil space in any country. There can be no free space in the presence of laws that restrict the right to public freedoms such as human rights, peaceful assembly, and freedom of association. Therefore, projects aimed at changing laws, of any kind, whether civil society law or labor laws, etc., are among the most important projects related to civic spaces as they seek to provide more space and open a new space enabling people to practice their rights more freely. This campaign seeks to enable organizations to practice their rights of peaceful assembly, freedom of association and freedom of expression.
4- Funding Power Bonds – HELEM – Lebanon: Power Bonds is an advocacy project that aims to strengthen the relationship between LGBTI youth and members of society using alternative communication methods and leveraging the power of art.
5- Forgotten voices – GUSOOR Organization for Peace and Coexistence – Yemen: The objective of this campaign is to strengthen the capacities of the "Marginalized" or The "Akhdam" group to enhance their social participation and expression mainly through digital spaces.
Challenges
Teams and participants faced challenges within the countries of implementation, countries' regulations, and funding obstacles.
Why is this innovative
Funding online campaigns tackling closing of civic issues such associations laws and social inclusion and building Civil Society Organization's capacities in conducting social change advocacy campaigns through a competition