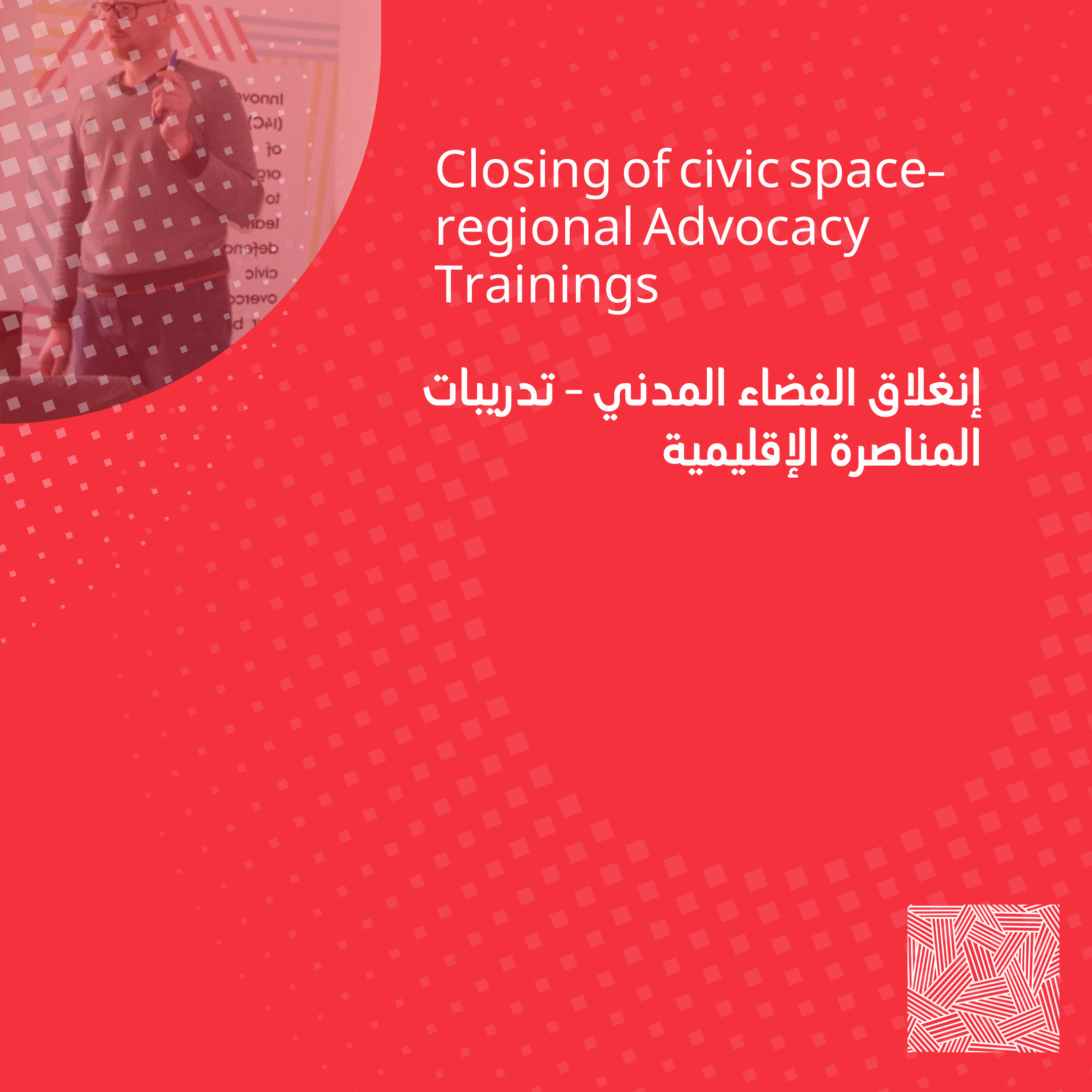 The Middle East and North Africa (MENA) Hub and in partnership with Partners Jordan and SimSim, has successfully conducted three (3) pieces of training of Trainers (ToTs) on Advocacy and Campaigning on the closing of civic spaces. The pieces of training were conducted in Morocco, Lebanon, and Jordan. Sixty-three (63) human rights activists and representatives of civil society organizations attended the pieces of training. The participants were from Jordan, Morocco, Lebanon, Tunisia, Algeria, Mauritania, Yemen, Iraq, Kurdistan, Palestine, Syria, Sudan, Kuwait, Bahrain, and Oman. The pieces of training aim to equip Hub members with the skills and the know-how required to undertake more effective advocacy efforts in the region and to tackle the issue of closing civic space.
Following the three pieces of training, participants were invited to submit advocacy action plans they developed during the pieces of training for the Campaign Idol small grants competition.
Results
During the implementation phase, Innovation for Change and Partners Jordan successfully organized three (3) pieces of training of trainers and trained (63) key members of civil society in their respective communities who brought to the training a rich collective background in advocacy, human rights, civil society, and closing civic spaces to participate and be equipped with knowledge, skills, and tools on:
campaigns' planning, 

advocacy strategizing and in media, 

social media and communication, 

new and creative strategies and tactics in advocacy, which will allow them to design and implement effective and creative advocacy campaigns, 
Participants developed individual or collaborative work plans and presented them to the group. They were also given the option to compete in Campaign Idol, a competition for five CSO's to win and present ideas to receive a small grant to launch their own advocacy campaigns.
Challenges
In a region marked by different restrictions on CSOs and activists' rights to freedom of association, speech, and assembly and where significant crackdowns on human rights are increasing, meaningful and engaged advocacy capacity building to civil society and HRDs is crucial to diminish the regional barriers and restrictions. As the MENA Hub's mission consists of defending the closing of civic space in the region through capacity development and campaigning, the hub's members expressed their training needs in terms of advocacy, community mobilization, and campaigning tactics.
Why is this innovative
Following the power analysis methodology to design closing of civic space issues

Deepen participants' understanding of advocacy and campaigning processes via a training-of-trainers course.

Equip hub members with the skills and know-how required to implement advocacy actions and strategies.

Establish a pool of trainers within the MENA region with expertise in advocacy and campaigning.  

Facilitate collaboration and knowledge sharing between CSOs in the MENA Region. 
Other tools
Power analysis methodology
Immediate Implementation and sub granting